The Value of BCI's Licensed Training Partner Network | Facing the pandemic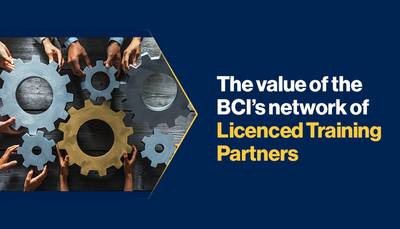 Facing the pandemic
BCI is committed to providing high quality business continuity and resilience education and training. To achieve this, BCI relies on a worldwide network of carefully selected Licensed Training Partners (LTPs) who deliver BCI training courses – including the CBCI Certification course and 1 and 2 day courses – to worldwide.
Over the past two years, the pandemic has challenged organizations across all industry sectors, forcing them to adapt to a new world and new operating regimes in order to stay in business. BCI and its LTPs were no exception: BCI had to rethink the way training courses were delivered and adapt to the growing demand for business continuity training, then work with the LTPs to execute the benefit.
In this rapidly changing environment, most LTPs have demonstrated an impeccable level of resilience by quickly adapting their training services. In less than three months, they were able to transition from their classroom courses to online courses – through a variety of different webinar platforms. Sam Howard, CEO of Continuity Shop (based in the UK), explained: "We have moved to daily online crisis updates and obtained software to allow us to communicate online and assess changes. that would be necessary to provide online services. He also added: "BCI has remained in constant contact with us and our management team has communicated daily with staff to migrate our online training delivery. This involved training sessions and rehearsals to understand the best way to meet BCI requirements and maintain our quality of service to our customers. Rehearsals took place online with head office and quality checks took place with BCI Education.
Each LTP training course took place on the same dates and times, was led by a certified BCI instructor, and participants were always able to interact and network. LTPs were able to provide the exact same learning experience, but in the comfort and safety of student homes or other safe places. Jeff Primus, founder and owner of ACTAGIS (based in Switzerland), mentioned that his company had offered online courses for many years and that the key to their success was to "prepare our candidates for the transition [from in class to online]". Jeff also added that all their efforts have been put "to satisfy our customers and prepare them before the training sessions so that they can dive into the new context without difficulty".
In Australia – where the government has imposed some of the toughest regional shutdowns and travel restrictions – the new online way of delivering training has become an opportunity rather than a disruption. Malka Bakes, managing director of RiskLogic (based in Australia), said the online training "provided greater flexibility, accessibility and affordability. For the CBCI course, this opened up the possibility for those who could not have traveled or could not afford to add travel costs to Australia to the training course. She also added that the challenges they observed were mostly in "conducting group exercises and small group discussions, but Zoom/Teams advancements with the rooms feature have helped and clients have become attuned." comfortable doing online sessions".
The sentiment was similar at LTP BC Training (based in the UK). Kitt Chabba, Head of Marketing, said "live online training has made our courses more accessible to delegates, who previously would have had to travel to attend one of our courses." Chabba also adds that they now have "cohorts with delegates from different regions," which allows for "networking among business continuity professionals."
Over the past 24 months, business continuity has catapulted to the top of management agendas. The BCI Crisis Management 2021 report showed that the majority of resilience professionals were confident they could secure further investment in resilience tools, training and programs due to increased perception of the department. In addition, business continuity professionals are increasingly taking on more strategic roles in organisations, with the BCI's 2021 report on the future of business continuity revealing that nearly two-thirds of the tasks of business continuity managers British Columbia are now strategic rather than operational. This means that more is now expected of business continuity professionals, but it also means that staff members need more to be properly trained in the discipline. Chabba believes that many organizations that have not taken business continuity seriously in the past are "now putting business continuity plans in place." Primus also argues that the pandemic has "opened the eyes of many businesses" and they now understand "the importance of business continuity and the importance of business continuity education. We see this clearly in the increased demand for business continuity training. Bakes also adds that there is "a greater expectation for resilience managers/risk practitioners etc. to be more trained in business continuity and to strengthen links with other resilience disciplines, rather than just a stand-alone program. There are more internal roles being created, so training these people is important if they are not going to bring in external consultants/SMEs. »
According to Chabba, there will be many new roles and new hires within business continuity that will require proper training as well as certification, adding that "business continuity training ensures that industry professionals are equipped skills needed to succeed in their role, and organizations will need to invest in their staff so that they are properly trained, and therefore implement business continuity at a high level.
BCI's Business Continuity and Resilience Training has remained available to everyone as the world navigates the COVID-19 pandemic, providing information to individuals, the self-employed, small and medium-sized businesses, and large international corporations. This would not have been possible without the partnership of its training partners. Primus explains that the partnership adds value to their business because "the framework, methodology and content of the BCI training are well appreciated by our customers". Bakes said the relationship with BCI is "a much-appreciated strategic partnership" and added that affiliation with BCI "helps build the reputation and brand image of RiskLogic as we continue to maintain our eminence on market as a consultancy specializing in risk advisory in Australia and New Zealand. Howard adds to this, explaining: "The partnership works both ways. BCI recognizes the professionalism of Continuity Shop, as we maintain our position as a leading BCI licensed training provider. BC Training's Chabba also adds "2022 will mark our 14th year as a BCI Global Training Partner, and we are proud of our well-established relationship with the Institute. We work alongside them and have recruited thousands of new students over the years, fostering a more resilient world through the dissemination of knowledge and awareness. Business continuity support through our training and resources.
Safer