The Sage Eagle has landed: WSMR activates a new training center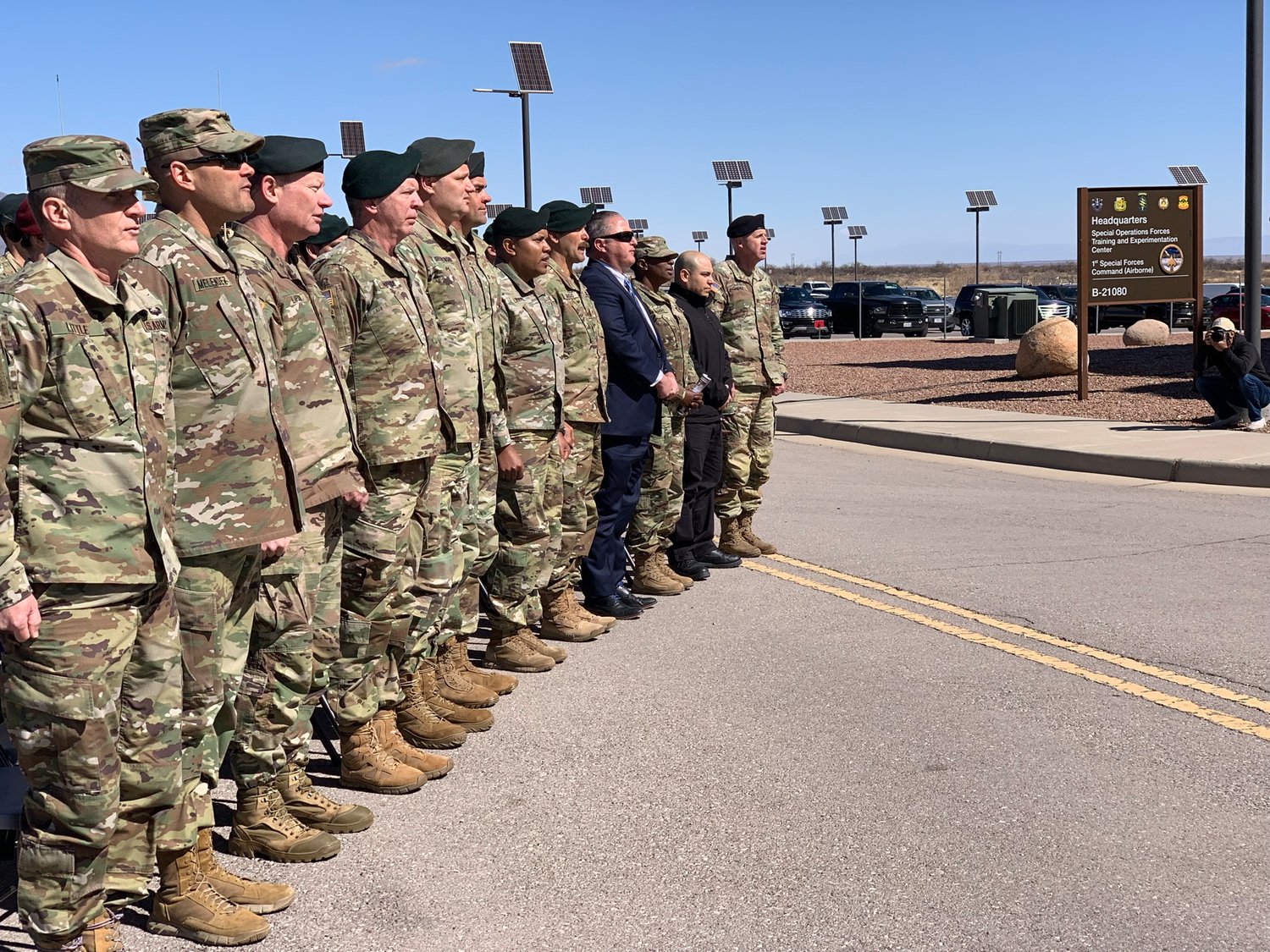 By Elva K. Österreich Las Cruces Bulletin
Bringing 500 to 1,500 Soldiers, Airmen and Marines to their training units at White Sands Missile range six times a year, the Special Operations Forces Training and Experimentation Center (SOF-TEC) hosted the official activation on March 8.
The operation allows U.S. SOF units and their partner forces to conduct training and certification on irregular warfare activities in an environment that replicates the modern battlefield.
SOF-TEC Director Col. Theo Unbehagen said Sage Eagle exercises actually started around September, bringing units in for pre-mission training for 4-6 week exercises joining different units and organizations.
"What we're trying to achieve here is a real joint force, units from the U.S. Navy, Air Force, Space Force, NASA and other DoD organizations, to come here to train and get together," Unbehagen said. "We're laying the groundwork for this to be a more cohesive place for joint training experimentation, with the main effort being the Sage Eagle exercises."
He said SOF-TEC is also working with area law enforcement, community leaders and community centers so the Department of Defense can get its civil affairs teams through realistic military training.
For example, Ubehagen says, they can walk into a fire station and see how things are set up, what activities are going on, look at the environment, and how they manage operations. Teams can then take this information with them as they assist the civilian populations they encounter and help around the world.
"It's real-world law enforcement, civilian community leadership as they get that experience and that training environment, they can go overseas and really help the communities where we're trying to help. help build stability," he said. "It's not just about going to the range and shooting."
Deputy Commanding General – Support 1st Special Forces Command (Airborne) Brig. General Derek Neal said WSMR is an excellent choice for SOF-TEC, which allows their units to train in realistic terrain.
"SOF-TEC is looking to the future," he said. "We now face new areas of space and cyberspace. Now and in the future, all areas can and will be tested simultaneously.
sergeant. Maj. Gregg Kibbee, a senior command operations NCO, said the WSMR is ideal for SOF-TEC because the military directs and manages the airspace above the installation.
"It allows for training opportunities that haven't been done on a large scale before," he said.
In the past, the DoD was about land, air and sea, Kibbee said.
"With cyberspace and real space, we envision two new areas," he said. "Now we are bringing new technologies, satellites into space and more. It is as if the sea was, is still undiscovered.
The DoD must recognize that, as a field, technology and cyberspace go hand in hand with information operations.
"Looking at our environment, we can't think of it as just a brick and mortar building, we have to think of this brick building as an infrastructure network," Kibbee said. "It's not just a radio; it's a computer network, that's why we have to train ourselves on it, as a real environment.
"Certainly, we don't want to be blind, we want to integrate all the technologies that we have as a multi-domain joint force."