HNA Palisades Training Center in the Eye of a Legal Storm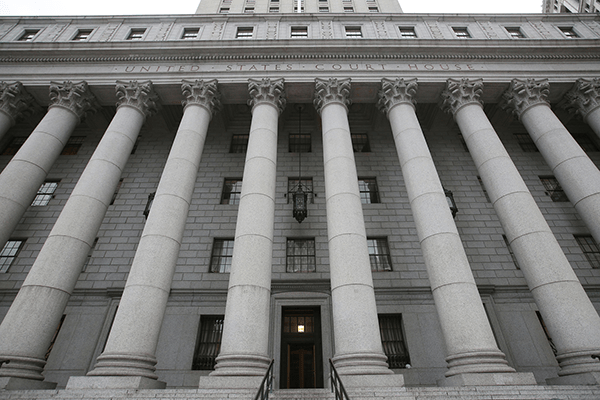 RCBJ-Audible (Listen for free)
Manhattan REIT will receive notice of any sale of assets held indirectly by HNA Group, including the HNA Palisades Training Center
By Tina Traster
The eventual sale of the HNA Palisades Training Center has become more complicated – if that was even possible. In addition to a complaint filed recently by the former potential buyer claiming that the Chinese company breached its contract as well as questions about whether current potential buyers can raise the funds they need for the purchase, there has another twist that could complicate the matter.
A federal judge in New York has ruled that HNA Group, at least temporarily, cannot sell or transfer any assets (or interest in an asset) that HNA owns, including the proceeds of any sale of the Palisades Conference Center in the county of Rockland.
SL Green blames the fact that HNA's "indirect" ownership could still result in HNA Group receiving the sale proceeds, even though it is not the official owner of the property.
The case arose out of efforts by a subsidiary of SL Green, the Manhattan-based REIT, to uphold an arbitration award it obtained for $185 million against HNA Group (International) Company Ltd.
SL Green sought an order seizing all assets of HNA, including the proceeds of any sale of the Palisades Premier Conference Center to satisfy, at least in part, the final arbitration award against HNA. SL Green also sought an order requiring HNA to provide it with 14 days notice of any sale of any property owned directly or indirectly by HNA.
To complicate the matter, both litigants acknowledge that HNA Group (which owes the arbitration award) does not directly own the Palisades Training Center here in Rockland County.
The order was issued by Judge John Koeltl of the Southern District of New York.
In response, in a recent court filing, HNA Group said the Palisades Training Center is owned by a Delaware LLC known as "Training Center LLC," which is owned by HNA Group North America LLC. This LLC is owned by HNA North America LLC. Respondent claims that each is a separate and distinct entity, neither of which is responsible for the debt, while SL Green blames the fact that its "indirect" ownership could still result in HNA Group receiving the sale proceeds. , even if it is not. owner of the property.

"Each of these entities is a separate legal entity operating its own business, and Defendant does not own or control the assets of its subsidiaries," HNA Group attorneys assert.
SL Green in a July 11 filing asserts in support of his case: "Thim only way to ensure that the respondent can pay a judgment of $185 million is to seize any proceeds that can come into the possession of the respondent. This sale takes place [of the Palisades Training Center] could be transferred to the Respondent in the future is sufficient grounds for seizure.

On May 9, RCBJ reported that the team approached by the city of Orangetown to purchase the HNA Palisades Center had reached agreements with its Chinese owner. The May 9 article was cited in an affidavit by Harrison Sitomer, chief investment officer of SL Green, in support of his motion for a show cause order for a prejudgment seizure of HNA's assets.
On June 20, RCBJ reported that the team of California developers approached a year ago by the city of Orangetown to purchase and transform the 106-acre HNA Palisades Training Center campus at 334 Route 9W in Palisades is seeking funding. to buy the property for $33. million, but it is still unclear whether the potential promoters need more than 100% financing or if they have investment partners.

REVEIL LLC, a Delaware limited liability company, said in a capital request that it was under contract to buy HNA for $33 million. The developers are seeking $26.5 million, including $5 million in acquisition, pre-development and financing costs to cover the purchase price of the hotel/conference center owned by the Chinese entity.
According to the temporary order, HNA may not "sell, transfer, convey, give, pledge, assign, assign or otherwise encumber any assets or interests in any assets, tangible or intangible, that HNA owns, including, without limited thereto, any interest in proceeds of any sale of [HNA Palisades] Conference Center." The order also requires HNA to justify why it should not provide 14 days' notice to 245 Park of "any sale of any property directly or indirectly owned by HNA."
In June, a former HNA Palisades Training Center buyer who defaulted in 2019 claimed in a lawsuit filed in Rockland County Supreme Court that he was still entitled to purchase the 106 campus. acres on Highway 9W in Palisades.
[email protected] LLC has accused HNA of breach of contract, saying its efforts to thwart the sale of the hotel and conference center two years ago violated the terms of the contract. Plaintiff asks the court to compel HNA to transfer ownership to ZVG pursuant to the original and amended contract. The lawsuit also seeks unspecified damages from HNA for breaching its contract with ZVG.
The underlying arbitration award
HNA paid $2.2 billion to buy the 44-story building at 245 Park Avenue in 2017, before putting the tower on the market a year later. Last October, a Chinese judge approved a corporate restructuring allowing HNA's creditors to sell its assets.
SL Green invested $148 million in the building in 2018 when he became a property manager. The REIT, which said it made the investment at HNA's request, negotiated protections around the investment, including in the event of bankruptcy. The $185 million price tag in May represented SL Green's investment in 245 Park Avenue plus other fees.
The arbitrator, former judge Priscilla Hall, said SL Green had fulfilled its obligation to show that a "causal event" had occurred, although HNA argued that a bankruptcy filing by its subsidiary PWM Property Management in October should have stopped the REIT's efforts to recover its investment. PWM owned the tower on behalf of HNA. Cause events are simply events that trigger the activation of a clause of an agreement.
The legal battle over 245 Park Avenue dates back several years. PWM accused SL Green of failing to find a tenant to replace the deceased Major League Baseball and said the building had not had a new lease since November 2018. The arbitrator said in May that HNA had no not proven his allegation regarding MLB.
PWM also accused SL Green of intentionally trying to put the skyscraper in financial difficulty, saying the REIT would benefit because of its interest in the building and its ability to foreclose if PWM failed to make its payments.
PWM kicked out SL Green as a property manager after filing for bankruptcy last October. In December, a bankruptcy court judge ruled that PWM could cancel SL Green's property management contract. SL Green said he was unaware of PWM's plans to file for bankruptcy.