From rivals to training partners to an unshakeable friendship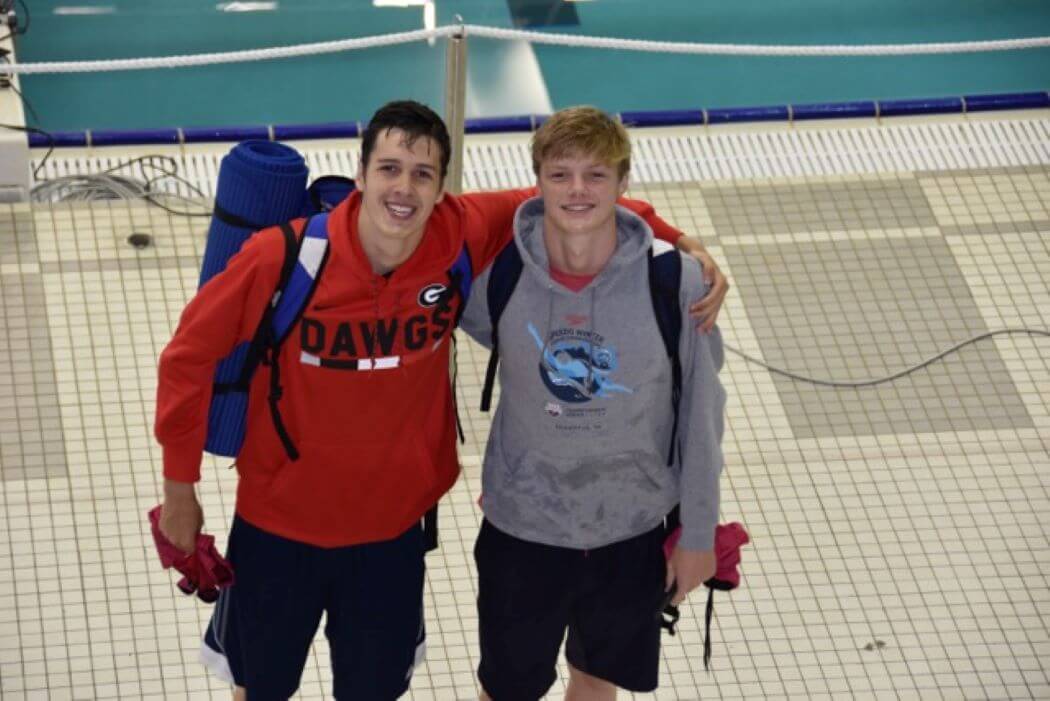 From rivals to training partners to an unshakeable friendship
As Brian Houston once said, "Don't be fooled into thinking that you have the ability to do your best on your own. A gym workout partner is a great asset because when you think you've reached your limit, there is someone who can push you to go the extra mile.
Have you ever had a passionate rivalry with a fellow swimmer that ultimately led to one of the best relationships you can imagine?
Where it started
A rivalry between two exceptional swimmers arose on a hot summer night in Atlanta at a neighborhood swimming competition. Jake magahey and Bradley Dunham were the stars of their respective teams and neither wanted to lose a race against the other. Through the Summer League as kids, club swimming, meeting rival high schools, and pursuing their college education, the two current Georgia Bulldogs have become close friends, training partners. and no longer rivals in the pool.
"Jake and I had a HUGE rivalry," Dunham said. "We hated losing to each other, and every time we ran, all eyes were usually on us, to see which of us was going to win. However, once I hit my final year (of high school), we became closer as friends than rivals, and yet neither of us always wanted to lose. Now that we're in college, it's more up to us to make sure we beat everyone who doesn't "rehearse" UGA and are having fun at the same time. "
Reluctant training partners
Magahey, a member of the United States Junior National Swim Team and Olympic Trials qualifier, and Dunham, Olympic Trials qualifier and Junior National Championships finalist, began training together upon entering high school at Swim Atlanta. . Their coach saw an opportunity to pit the two against each other in training and push each other to be successful in a particular set or in meetings. When one of these promising swimmers saw the other succeed, it would only feed the other to push harder in training to go faster.
"At the start we were super competitive, almost to an unhealthy point," said Magahey. "I think at some point we learned to respect each other, though. From my second year, I think Coach Chris (Davis, Swim Atlanta) saw it and enjoyed it. He was starting to give us some really hard workouts, like Ironman type stuff, but we were still pushing each other to get through. "
Despite the unhealthy relationship initially, as the boys grew and matured they began to realize, as their coach had done, that they could use this rivalry to their advantage. Magahey and Dunham swim and think alike. Having someone next to them to push them through the tough sets was the motivation to get better and faster, while also trying to beat the other to the wall, but now in a healthy and competitive way.
"At first we didn't know each other as well, so we were both focused on fighting," said Magahey. "Over time, however, we got to understand each other better, and I think we realized we needed each other to get better. Since then, we've been pretty close."
A bond has formed
During training at Swim Atlanta, an unspoken truce was created. Magahey and Dunham came to realize that they were better together than apart. Carpooling for training, going through tough heats together, and joking with coaches and teammates tied the two competitors. Their relationship grew stronger inside and outside the pool as the boys got to know each other as individuals and not just as rivals.
"I would say that training together has had a lot of benefits," said Dunham. "We've gone from great rivals to close friends, so we've been pushing each other for years now. It's great to see how much we've both improved over the years.
Come on friends!
Eventually there was high school graduation for couples and college swimming careers. Dunham, a year older than Magahey, has pledged to swim at the University of Georgia (SEC Conference). When the time came for Magahey to decide where he wanted to spend the next four years of his life, he felt stuck, really stuck. Her mother went to Louisiana State University and her father went to the University of Florida, two SEC conference schools. Magahey, a staunch Gator fan like his father, said growing up in Georgia around Bulldog fans made him lose at UGA every Saturday.
UGA didn't seem like an option for this Gator. It wasn't until Dunham, a freshman at the time, approached Magahey about swimming at the University of Georgia that Magahey even realized it was a possibility.
Succeed together
"After that conversation, something kind of clicked for me," Magahey said. "UGA had a lot of things I was looking for, and after doing my campus tour, I realized pretty quickly that this was where I wanted to be. I think if he hadn't had this conversation with me that day, I wouldn't have ended up going here. It's pretty crazy to think about it.
Magahey and Dunham both achieved success as Georgia Bulldogs. This season, Dunham has registered NCAA B Cups in the 200 freestyle, 500 freestyle, 100 backstroke and 200 backstroke. Magahey has won multiple NCAA A and B Cups, as well as 11 doubles competition wins, and has been named the SEC Swimmer of the Week and Freshman of the SEC Week on multiple occasions. The big rivalry is now between the UGA and the other SEC schools, and the two swimmers are ready to take it all in the pool.
"Being able to swim with Jake at UGA is a dream come true," said Dunham. "The environment we train in in Georgia has really helped us become the most successful student-athletes we can be, while having fun with each other."
Better together
It's a story as old as time, two strong and fast athletes clashed. They could either work together to be successful or fight against each other, which could lead to failure and disappointment. Magahey and Dunham decided to be successful and trust each other's work ethic and power to work together and become successful student-athletes.
"Working together has really only helped our friendship," Magahey said. "It helps a lot to have someone who understands the process as much as you do. Swimming is a super tough sport, especially at a high level, so you need all the support you can get. "
Related