Dogs are great training partners for quarantined athletes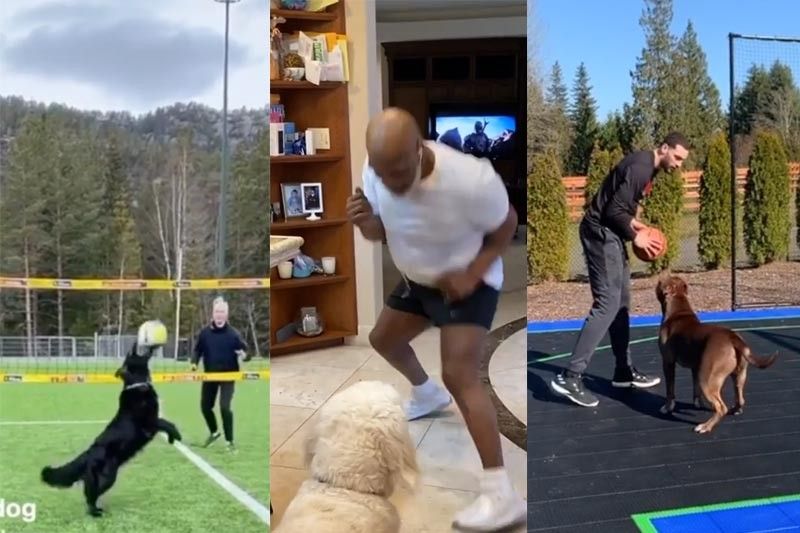 MANILA, Philippines – With athletes around the world stranded at home due to the novel coronavirus pandemic (COVID-19), sports stars are getting creative in their attempt to stay in shape.
An emerging trend among sportsmen and women alike has turned to their furry friends as training partners during self-isolation.
NBA stars Trae Young and Zach LaVine test their dogs' defensive skills, practicing ball handling against their four-legged friends.
Candace Parker of the LA Sparks has also joined the trend with her dog Nahla.
Meanwhile, retired boxing legend Mike Tyson is keeping fit by training with his beloved dog, Mars.
In a video uploaded to his Instagram, Tyson even pokes fun at his dog.
"Come to Mars, do you want some? Tyson asked.
ONE Championship strawweight champion Joshua Pacio was also kept company by his dog during the exercises in Baguio.
Besides basketball and combat sports, dogs also seem to have a gift for volleyball.
The Norwegian beach volleyball team showed off the skills of a dog named Kiara in a two-on-two volleyball match.
Kiara was a great teammate, giving her partner good sets in the game.
Besides the athletes, a sports leader also had fun with his two four-legged friends.
Andrew Cotter, a BBC sports broadcaster, uploaded a now-viral video of him commenting on his dogs' activities during quarantine.
Some sports are slower. Learn more about the strategy. pic.twitter.com/JMBaGJ1tSd

– Andrew Cotter (@MrAndrewCotter) April 9, 2020
"Some sports are slower. Learn more about the strategy," Cotter wrote.
With gyms and training facilities being closed across the world due to the pandemic, dogs provide just as much physical activity to their sports-loving owners.